Locksmiths provide hundreds of services every day and no one bats an eye. People seem to forget all about their services until it's too late. While they're on the job, these Locksmiths usually bring a set of lockpicking tools with them.
Lockpicking is an essential skill for a Locksmith and handy to have in everyday life. In fact, the practice is very precise and requires careful measurements to cut the key or set the lock pins right. Here are some lock picking terms you've never heard of: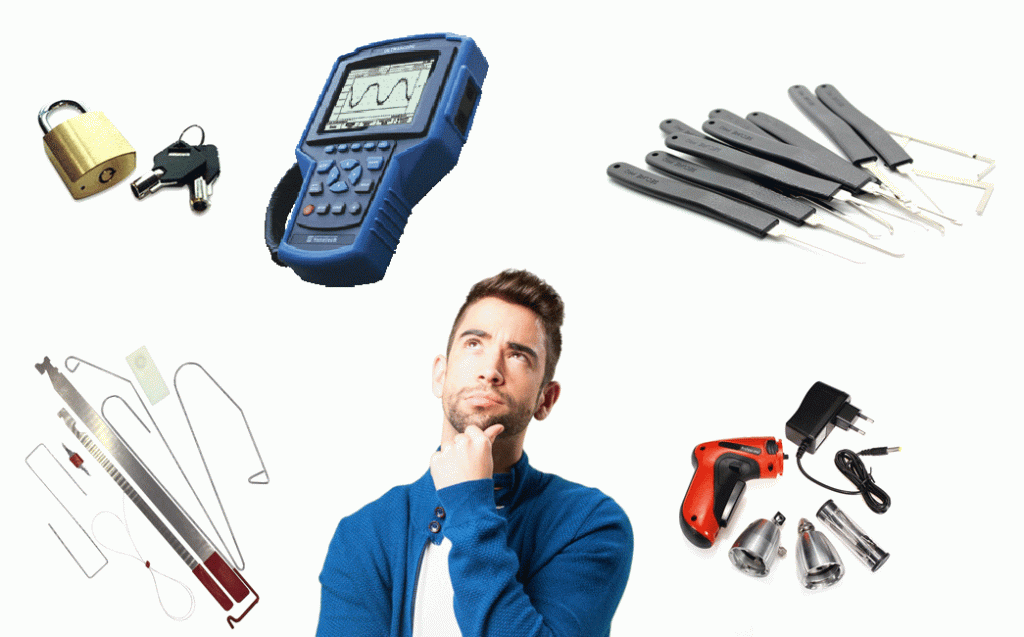 Clutch head screw: A clutch head screw is a threaded screw with a funny looking rear face that allows fixed clockwise turns. But it prevents the screwdriver from applying torque when undoing the screw.
Electric lock pick gun- used to open pin tumbler locks. A pin tumbler lock is a lock mechanism that uses pins of varying lengths to prevent the lock from opening.
Full mortise– refers to a way of installing where only the face plate and trim of the lock are exposed.
Grand Master key– when a series of locks in an apartment complex is divided into two or more sub-rooms. The key which controls all of the sub-rooms in the complex is called the grand master key.
Hasp– A hinged metal strap that is designed to be passed over a staple and secured in place.
Slim Jim– a thin strip of metal roughly two feet long that is used to open a locked car door when a car key is not available. It will open the door without breaking the window and should only be used with express consent of the owner.
Padlock Shims– made of thin spring steel, put these bad boys in between the shackles and body of the lock. Once the shims are in place, twist them in order to disengage the locking mechanism. In the locksmith profession, they are mainly used on padlocks with spring operated latches.
Ace lock– the standard lock used on most vending machines and coin-operated washing machines today. It is a high-security lock whose components are arranged in a circle and require a special key known as a tubular key to open.
Rim Lock– A lock or latch that is typically mounted on the surface of a drawer or a door.
Tumbler– A movable detainer which must be lifted before the bolt of a lock can move.
Cross Rail– the horizontal part of a door
Burglar Bars– the security bars that you commonly see on school windows or commercial buildings. Also called security bars or bars in windows.
Common Locksmith Terms, Common Locksmith Practice
As a matter of fact, many of our technicians use these same terms when they learn the locksmithing business at our company. This is why we can send these lock picking professionals to your location so quickly. Because they know their stuff and can turn your situation around in minutes.
Our technicians are very familiar with these common locksmith terms, so you know that they will be ready to help you the next time you're in a pickle.
Because they are extremely knowledgeable about these locksmith terms and the profession as a whole. Our technicians can also advise you on any security measures you could take to improve your car or home security on the cheap.
We Are Locksmith El Segundo
Locksmith El Segundo is open 24 hours a day to serve any problems you might be having with your car or home. Our customer service reps can send a technician to your location in as little as 20 minutes. And will leave you 100% satisfied when they finish the job.
Hopefully, this article has helped you learn some very useful terms in the locksmith field. And that you'll give Locksmith El Segundo a call next time you need quick and dependable solutions for your car or home. We welcome any suggestions and hope to serve you better in the future.